How to care for misaligned beaks
Beaks are incredible structures. They consist of a top beak (maxilla) and a bottom beak (mandible) and come in all sorts of shapes and sizes to allow birds to eat all sorts of different foods.
Consider the macaw, with an enormous beak cracking Brazil nuts with ease, to the hummingbird delicately sipping nectar from the tiniest flowers, to flamingos dabbling in the mud.
There are many reasons a beak might look abnormal. These range from liver disease, to viral or parasite infections, to trauma. An article can be found here describing some of the causes of beak abnormalities.
One of the common issues I see at myvet Strathfieldsaye, particularly in individual pet birds, are misaligned beaks.
Birds with misaligned beaks often surprise me by how well they are. Most birds, even with very severe beak deformities, are in reasonable body condition, and appear to manage to eat quite well, but only if they are allowed easy access to food and are not picked on or competed with by others in the group.
The sun conure shown below is an individual pet bird, very well loved (he sleeps in his owner's bed in winter!), in great body condition, and had his misaligned beak when the owner purchased him after weaning.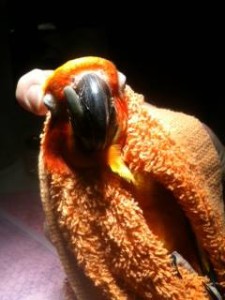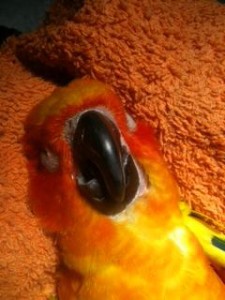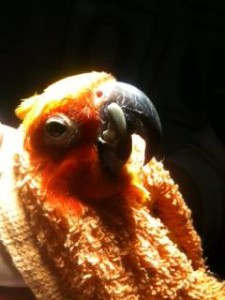 There are a number of possible causes for this misalignment including genetics, imbalanced early nutrition, hand feeding from the same side all the time, and trauma.
Had we seen him as a younger bird, we could have attempted a permanent solution – 'birdy braces'.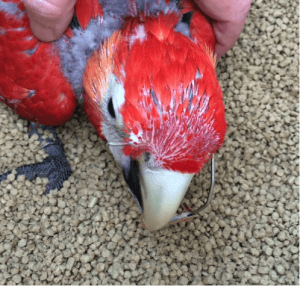 See the photo of a young scarlet macaw (above) after we applied a brace to her beak. After a few weeks of care, she recovered to have a completely normal beak following gentle traction back in the right direction.
As for our conure, well, it is too late for us to apply braces to him, so we will manage his beak with regular trims (probably every 12 months) under general anaesthesia. I think you will agree he looks much more handsome after his trim!