First aid for birds
Birds 'hide their illnesses' and often don't look unwell until they are very, very unwell. This makes sense from an evolutionary perspective – if you are a member of a flock of budgies in the outback and you are feeling a bit off, you will be the slowest in the flock and most likely to be eaten by a predator. You will also attract predators to the rest of your flock. So behaving as though you are ok and feeling fine, even though you are sick, is the best survival method.
So, what first aid can you do for your bird when you find it looking sick?
Separation
Remove the sick bird from competition for food and water from other birds it is housed with.
Food and water
Access to easy to find food and water – consider crop tubing/supplemental feeding if the bird isn't eating on its own.
Stop any bleeding
An obvious thing to do! Apply pressure to any wounds to stop bleeding, and look for bleeding blood quills.
Warmth
This is very important, birds must be kept warm, with an additional heat source. Just putting a towel over the cage is not providing supplementary heat the bird needs.
The photo below shows the hospital set-up we have at myvet Strathfieldsaye. We have a supplementary heat pad (red heater) underneath a clear plastic container (with holes in the lid!) so we can see the bird, and inside we have feed, water and a perch. We can give supplementary oxygen through the lid if needed. The newspaper on the bottom allows us to examine any droppings the bird produces. The temperature in this box reaches about 28°C – much warmer than room temperatures even at this time of year!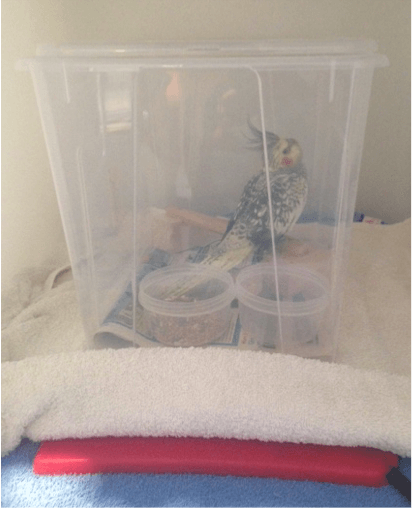 A hospital set up like this would be simple to achieve in most homes, for little cost. If the bird is very unwell, for example vomiting or regurgitating, has abnormal droppings, is unable to stand, is having trouble breathing, is very skinny, or you suspect poisoning, or if it doesn't improve with 12 or so hours in a heated hospital cage, consider calling us for a consultation.